FirePoint CAD Connector is Ready for FirePoint 8
The FirePoint CAD Connector is now ready to provide your fire department with a solid and useful interface to your CAD system. The software consists of an application that runs on a server PC. It monitors a folder for CAD transaction files then imports those files directly into the CAD Connector. A graph on the main window tracks the number of dispatches by hour for the last 24-hours.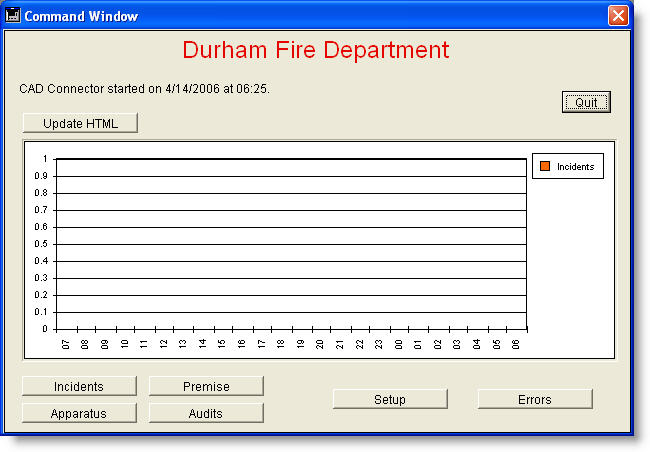 As CAD transactions are imported from CAD, they are converted into records that are automatically read by FirePoint 8. As an added feature, the CAD Connector publishes web pages listing all Incident and Apparatus responses for the past 24-hours as well as for the past 10 days.
The CAD Connector is custom-built for your CAD system in cooperation with your CAD provider. For product information information call our sales department (800) 365-9962.
FirePoint 8 Provides Power and Flexibility
Whether your fire department serves a large city or provides volunteer services in a rural community there's a version of FirePoint designed for you.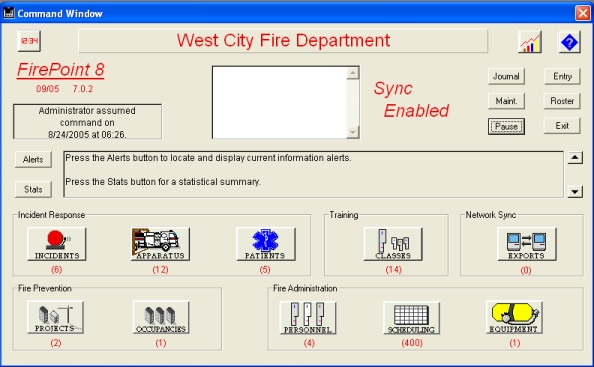 FirePoint has 40 fire service applications and they're easy to reach. Here's the view when you start FirePoint. The Command Window appears and remains on the screen. Notice you can run several FirePoint applications simultaneously in different windows on your computer's screen.
FirePoint Client Server utilizes easy-to-maintain server technology for fast data access over fire department networks. Systems are matched to the networking capabilities in your fire department. Operate FirePoint over your LAN or operate it over the Internet. FirePoint client server technology is fast and flexible.
FirePoint single-user systems can operate on one PC or forward incidents, apparatus, patient and training records over a network for merging on a single PC. Special pricing is available to rural fire departments.
Here are some key features available in all FirePoint products:
User defined fields
Spell checking
Digital camera interface
Graphic report generators
Multiple processes, multi-tasking
Here's a list of all 40 FirePoint applications.
Incident Responses:
NFIRS 5 incident reporting
Apparatus & F/f response
Patients & treatment reporting
Quick CAD - Dispatch Interface
Training Records:
Training classes & attendees

Certifications
Construction Projects & Plans Checking:
Contacts

Construction Projects

Requirements
Occupancies & Pre-Plans
Occupancies

Ordinances

Inspections

Violations

Chemicals

Hazmats

Tenants

Complaints

Public contacts (NFIRS 5)
Personnel Records
Personnel records

Issued equipment

Stock

Exposures to hazardous substances

Performance

Skills
Scheduling
Shift scheduling

Works tasks

Overtime availability

Overtime

Leave
Assets, Vehicles, Equipment Maintenance
Fleet (Apparatus)

Equipment

Maintenance

Hose records

Hydrant testing records

Parts

Vendors

Supplies
Department Operations
Journal & Alerts

Export Management

Reports Factory
For more information on the product that's right for you, make a selection below:
Client Server - Enterprise Version

Deploy FirePoint on a network with up to 50 simultaneous users...

Single User - Community Deployment

Track your vital data in a single-user version ready for expansion...

Single User - Rural Deployment

Meet NFIRS 5 reporting requirements in a system which delivers 40 fire service applications at an affordable price...
Questions? Our sales staff is available at:
(800) 365-9962