FirePoint Releases 2013 NFIRS 5 Upgrades
Earlier this year FEMA announced changes to the NFIRS 5 reporting system that will become effective on 1/1/2013. All current FirePoint version have been upgraded to address the changes.
Click on the Support button on the left side to locate upgrade information. Also see the Latest News link for more information.
FirePoint 12 Offers SQL Technology with a Powerful Twist
SQL is a database standard, but it can require considerable expertise to maintain. If your fire department doesn't employ a full-time database administrator (DBA) consider FirePoint 12.
FirePoint 12 is genuine SQL software, but it's software made for the firehouse. Download the FirePoint demo and try this test.
Install the single-user version of FirePoint 12 on a thumb drive. Next take the thumb drive from PC to PC and prove to yourself the application is portable, that is FirePoint 12 is capable of running on different PC's without installing the application on each PC.
What makes FirePoint 12 unique is that all the files necessary to run the application are located inside the application folder. To move a FirePoint 12 Server application from one PC server to another simply copy the FirePoint server folder from one PC to the other. There's no exporting or importing - no messy installation of files in dozens of locations on your hard drive.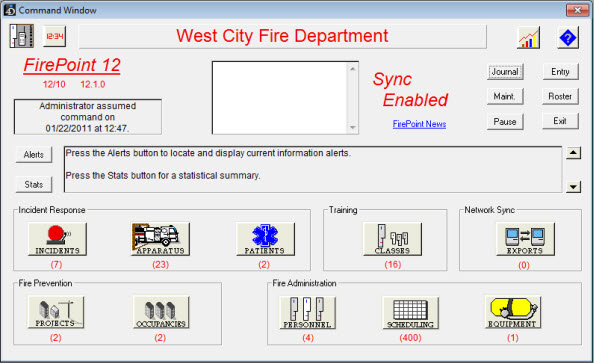 You can preview FirePoint 12 and it's new browser-based Help system, take a video tour of FirePoint 12's new features, download new ".pdf" documentation or download a FirePoint 12 demo right here.
Here's What's New in FirePoint 12
With this release FirePoint 12 embraces the SQL standard. Data files from previous version convert to SQL in seconds.
FirePoint 12 is certified to operate on Windows Server 2008 PC's.
4D Tools has been built-into the application. It is no longer necessary to run a separate application to perform maintenance.
Single user and Server versions are data compatible and can be used together on fire department networks.
The "Sync" version offers all FirePoint applications the ability to sync data between many modules via WiFi connection to support wireless operation in mobile units.
The "Server" version is FirePoint's enterprise solution allowing network access to a single data file as well as wireless syncing with mobile units via Wifi.
Here's a look at new technology at work in the Incidents module list view: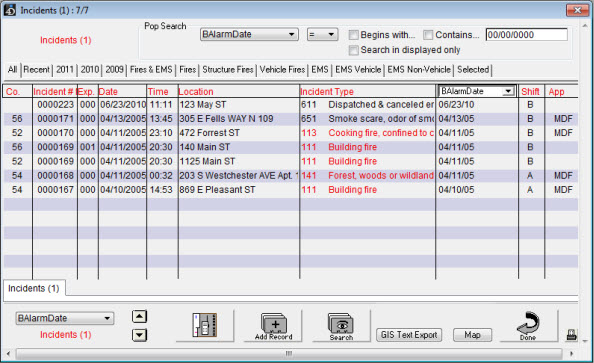 The list view layout has been greatly enlarged.
The "Pop Search" function has been moved to the top of the page to enable quick searches without having to press the Search button.
"Tab Searches" are now included. Press a single button to select all records, all recent (last 5 days) incidents, incidents occurring this year, last year and the year before, all fire & EMS incidents, all Fires, all Structure fires, etc. To select all structure files in 2004 simply press the "2004" tab then the "Structure Fires" tab. It's that easy.
A new column has been added so you can choose to display data from ANY Incident field. This feature works with FirePoint's "Pop Search" and "Quick Search" features to quickly put your data on the screen.
FirePoint is multi-tasking and supports multiple open applications. Note the lower tab allows fast access to any open FirePoint application.
A field selected in the lower left allows instant record sorting by any field in the database.
The new "Sync" and "Server" versions of FirePoint will support the use of mobile laptop PC's for remote data entry and syncing via 802.11 wireless networks. Click here to view an Adobe Acrobat document that describes current "Mobile Prevention" technology in detail. Right-click here to save the Adobe document to your hard drive.
Fractile analysis can now be performed on any two time fields in the Incidents & Apparatus modules.
Click here to view a detailed history of recent FirePoint upgrades.
There are New Ways to Demo FirePoint
Make an appointment for a live tour of FirePoint 8. End2End, Inc. now utilizes Internet technology to link your computer to ours for a live product demo by an experienced FirePoint user. Take a tour and have all your technical questions answered. Click here to email your request for a "live demo".
If you want to test-drive FirePoint 8, or you want to begin user training, download a preview of FirePoint 8's new "Sync" version. You will see software with a totally new look that retains the organization and operation of previous FirePoint versions. While some advanced Internet communications features are still being added, you will have an opportunity to take this new software for a test drive.
FirePoint Server Version Supports Enterprise Requirements
FirePoint's server version supports the enterprise requirements of metropolitan and county fire departments that demand reliable 24 / 7 access to information resources. When network access is available FirePoint provides dozens of client users simultaneous access to fire department data.
FirePoint's new "Mobile Prevention" module supports access by through built-in WiFi syncing. A simple and inexpensive 802.11 Wifi router placed on your network can keep mobile units sync'd with the latest data.
If you have a demanding urban environment consider FirePoint 8 Server version.
Sales (800) 365-9962
Small Fire Department Special Now Available
FirePoint is available in a variety of configurations. If you wish to utilize all FirePoint modules in a small fire department you can get a substantial product discount.
A single-user version of FirePoint is available for less than $2,000. Now for a very small investment your fire department can have over 40 FirePoint modules with all reporting options.
For more information and/or a demo CD complete an information request form. A demo will be sent to you right away.
For a formal price quote contact our sales department.
Sales (800) 365-9962
Check Latest News for information about this major FirePoint upgrade.


---